Osram, Continental dissolving smart headlight joint venture
But Osram says there is still plenty of need for the combination of optical chips, software, and sensors for intelligent vehicle illumination. If only the car market hadn't tanked.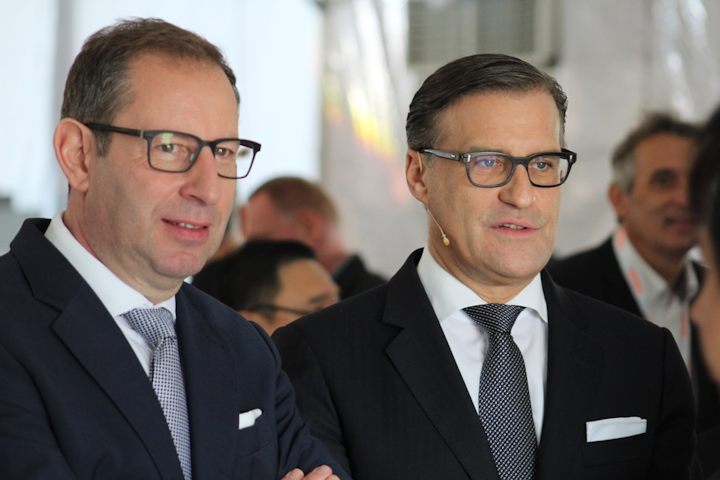 Osram CEO Olaf Berlien (r) and chief technology officer Stefan Kampmann hinted at the breakup of its joint venture with Continental in July, when Osram took a €48 million impairment charge for the JV and Berlien described it as continually "dilutive" and under "ongoing review." Kampmann said the two companies were considering "three different scenarios." (Photo credit: November 2017 photo from Kulim, Malaysia, courtesy of Mark Halper.)

Osram and Continental AG are disbanding the 50-50 joint venture (JV) they established two summers ago to develop sensor-linked, software-driven, intelligent LED and laser headlight systems and other digital illumination for car exteriors and interiors.
The two German companies said in separate announcements that they are negotiating how to distribute assets of Osram Continental between them, and that they expect to reach an agreement by the end of the year. The split of the 1500-person JV should then take place by the autumn of 2021, Osram told LEDs Magazine.
Munich-based Osram said it will continue to work with Hanover-based Continental as a partner but not in a joint venture. Both companies said they will work together to fulfill existing commitments and orders, and to "ensure the continuity of project implementation." They cited the downturn in the automotive market as the reason for dissolving the venture.
With the combination of expertise in LEDs from Osram and automotive electronics from Continental — a €44.5 billion (US$51.9B) provider of brakes, electronics, tires, powertrain, and chassis components — Osram Continental was advancing the state of headlight technology.
Using cameras, radar and lidar components, and sensors mounted in places such as suspension components and steering wheels while also feeding in map data, the technology can finely adjust beam angles and optimize illumination depending on traffic and road conditions, adjusting for all sorts of factors such as bumpy or curving roads, oncoming vehicles, and more. It can also minimize high-beam glare for motorists in other cars.
It is unclear how much momentum Osram Continental had gathered since launching in July 2018. A planned relocation of headquarters from Munich to Garching never transpired.
The writing was on the wall for the JV in July, when in its third quarter Osram took a €48 million ($56M) impairment charge for it, acknowledging a drop in its value.
At the time, Osram CEO Olaf Berlien told analysts during an earnings conference call that the JV "continued to be dilutive in the quarter," noting, "we are in ongoing review of the strategic direction of our joint venture." Chief technology officer Stefan Kampmann then elaborated: "We are in good discussion with our joint venture partner to see how we are going to assign and redesign the portfolio elements to make it less dilutive and more accretive for the future. We are currently working on three different scenarios. We think that we will have the final solution at the end of this calendar year."
On the same July analysts' call, Kampmann explained that the lighting control sector of the JV was in particular "generating headache and a lot burden."
The downturn in the automotive market and the global health crisis has been a blow, with 149-year-old Continental now forecasting a prolonged slump.
"Continental and Osram are responding to the difficult market situation caused by the continuing, low global level of vehicle production and the economic crisis, which was exacerbated by the effects of the coronavirus pandemic," Continental said. "Continental does not expect global vehicle production to return to 2017 pre-crisis levels before 2025 — and against this current backdrop, the former joint expectations of profitable growth for the joint venture can no longer be realized."
Continental itself has been experiencing corporate-wide challenges. It reorganized at the end of last year and has been trying to sell its powertrain business. For the second quarter ending June 30, it reported a net loss of €741.1M ($866M) as sales plunged 41% to €6.62B ($7.74B). Earlier this month, it announced a massive €1B ($1.17B) cost savings initiative affecting 30,000 jobs that it will either eliminate, modify, or relocate.
Osram described the JV split as "Osram and Continental's response to the gloomy market environment, which is being further impacted by the corona crisis and which has not developed as originally anticipated."
But Osram also expressed optimism. "The industrial aspects that led to the establishment of the joint venture are still valid," the company noted. "New lighting solutions will continue to need close interplay between electronics, software functionality, and modern LED light sources."
Although Osram just last week reported that things were picking up more than it had anticipated in automotive and core markets, the slight upturn was not enough to save Osram Continental. Osram will now pursue high-tech headlights on its own.
Editor's note: Osram and Continental report financials in Euros; US dollar amounts are converted at current value as of time of publication.
MARK HALPER is a contributing editor for LEDs Magazine, and an energy, technology, and business journalist (markhalper@aol.com).